Who Are the Fitness Twins?
The Fitness Twins - Adria Montgomery-Klein and Natalie Montgomery-Carroll are identical twins from Birmingham, Alabama. Age: 30; Height: 5'9; Weight: 145.
In pursuit to further educate audiences worldwide the twins have been involved in fitness competitions, educational and motivational seminars, promotional materials and personal appearances. Promotional materials include various prints for national magazine coverage for Physical, FitnessRX, Muscle & Fitness, Muscle & Fitness Hers, Ms. Fitness, Ironman, Oxygen and RealTree Outdoors, as well as, print work for billboards across the southeast, nationwide radio appearances such as, the Rick & Bubba Show and Fox Sports Radio, and various television appearances on ABC Fox Family, FOX Sports Network, TNN Outdoors, USA Network and local broadcastings.
Click here for Natalie and Adria's complete, detailed biography.
ACCOMPLISHMENTS:
Adria and Natalie are the first twins, or even sisters, to turn Professional in the IFBB Professional Fitness competitions. Prior to turning pro in the IFBB the twins took claim to numerous wins in the Ms. Fitness organization, taking home the championship titles at the Ms. Fitness USA and World championsips in Las Vegas, not once but twice.
TELEVISION APPEARANCES:
Jenny Jones Show - December 2002 "America's Sexiest Twins" featuring the winners, the "Fitness Twins"
Go For It: The Real Challenge - Currently in syndication, this competition TV show for kids features the Twins as coaches through a variety of physical and mental challenge matches.
PRINT MEDIA FEATURES:
MUSCLE & FITNESS magazine April 2003 - Feature article "Muscle Twins"
PHYSICAL magazine February 2003 - Cover and Feature "Training by the Fitness Twins"
MUSCLE & FITNESS HERS magazine December 2002 - Feature article "Full body training pull out book, featuring the "Fitness Twins"
PHYSICAL magazine February 2003 - Training with the Fitness Twins
OXYGEN magazine August 2002 - Feature article "Snap Shot of the Fitness Twins"
Physical magazine July 2002 - Physical Girl Individual Feature of Adria Klein
FITNESSRx magazine June 2002 - Feature Article - "Fat to Firm - 60 min. meltdown"
OXYGEN magazine June 2002 - Feature article - "Double Take"
Physical magazine June 2002 - Complete Arnold Classic coverage
Ironman magazine March & June 2002 - Feature article
Ms. Fitness Spring 2002 - Cover and article
Physical magazine April 2002 - Physical Girl Individual Feature of Natalie Carroll
Ms. Fitness Winter 2001- Cover and article
Physical magazine September 2001- Cover and feature story
BuckMasters magazine July 2001- Article
---
PERSONAL STATISTICS:
Adria Montgomery-Klein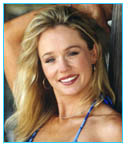 IFBB Jan Tana 2003 (14th place of 27 Fitness Class - 4th Routine Round)
NPC World Championships 2002 - Brno, Czech Republic
October 2002 (6th place Fitness Tall Class)
NPC Team Universe Overall and Tall Class Champion 2002
NPC USA Fitness Championships 2002 - 2cnd place in Tall Division * IFBB Pro Qualifier
NPC Fitness Nationals 2001 - 6th place
NPC Carol Semple Fitness Classic 2001- 2cnd place
Ms. Fitness World 2001 Champion
Ms. Fitness USA 2001 Champion
Ms. Fitness World 2000 Champion
Ms. Fitness USA 2000 - 3rd runner up
Ms. Fitness Hollywood Champion 2001
Ms. National Fitness Model 2000 Champion
Ms. Fitness Kentucky 2000 Champion
Ms. Fitness Indiana 2000 Champion
Ms. Fitness USA 2000 - placed 16th
Ms. Fitness Universe 2000 - placed 6th
Ms. Fitness Kentucky 1999 - 1st runner up
Natalie Montgomery-Carroll

IFBB Jan Tana 2003 (13th place of 27 Fitness Class - 3rd Routine Round)
IFBB GNC Show of Strength Invitational Pro Fitness - November 8, 2002 - 11th overall
IFBB Pittsburgh Pro Fitness Classic 2002 - 15th overall
IFBB Jan Tana Classic 2002 - 12th overall of 22 contestants
NPC Fitness Nationals 2001 - 2cnd place & IFBB Pro Qualifier
NPC Carol Semple Fitness Classic 2001 - 1st place & Overall Champion
Ms. Fitness World 2001 - 1st place
Ms. Fitness USA 2001 - 1st place
Ms. Fitness USA 2000 Champion
Ms. Fitness World 2000 - 2nd runner up
Ms. Fitness Hollywood 2001 - 1st runner up
Ms. National Fitness 2000 Champion
Ms. Fitness Mexico Invitational 2000 Champion
Ms. Fitness USA 2000, placed 11th
Ms. Fitness Universe 2000, 3rd runner up
Ms. Fitness Kentucky 1999 Champion